Basil (Vasyl) Volodymyr Onuferko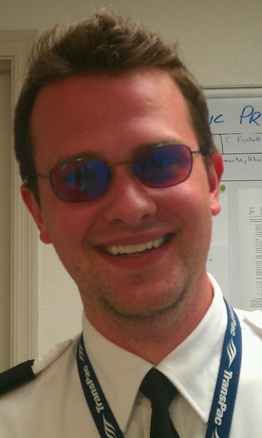 Basil (Vasyl) Onuferko, 26, of Ottawa, ON, Canada died tragically in a mid-air collision just north of Phoenix, AZ on Friday May 31, 2013.
Basil is the son of Very Rev. Andrew and Maria (Stecyszyn) Onuferko, brother of Thomas (27) and Anna (23), grandson of Luba Onuferko and Zenovia Stecyszyn. Basil was born in Chicago, October 29, 1986. He grew up in Leuven, Belgium (1989-1996) and Ottawa, Ontario. In Canada he completed his primary and secondary education in 2004 (McMaster Catholic Elementary School, St. Patrick's Intermediate School, Canterbury High School). He also completed the language and culture program at Lesia Ukrainka School of Ukrainian Studies and was active in Plast, the Ukrainian Scouting organization. In 2009 he completed his Bachelors of Arts in Geography (University of Ottawa). While pursuing his dream to fly he worked at LAVA Computer MFG (2010-2012) in Toronto, and earned his Private Pilot License in 2011 (Brampton Flight Centre). In May 2012 he enrolled in the pilot training program at Transpac Aviation Academy (Phoenix, AZ) where he earned his Commercial Pilot's License (November 2012) and his FAA Certified multi-engine Instructor Rating (May 2013). He was immediately hired by Transpac as a flight instructor in their FAA program and was scheduled to take on his first student the day after the accident. Basil was passionate about flying and looked forward to a successful career in aviation. Mr. Paul Brownell, a senior examiner and program manager at Transpac also died in the accident. Basil is mourned by many uncles, aunts, cousins, family and friends.
Basil was a very caring and giving person, one who listened intently to friends, and was able to inspire others. A friend summed it up best: "I feel so lucky to have met him. Basil and I shared our summer evenings on the porch at that time. We would commiserate about struggles we were having and talk about dreams for the future. Flying was always and unequivocally on top of Basil's mind and what made him wide-eyed with possibility and excitement. I was thoroughly impressed and inspired by his determination. He had an irrepressible optimism and air about him that made him magnetic."
Many letters of sympathy echoed the same sentiment. And so it is in this spirit that the family has established a memorial fund in his name (Basil Onuferko Memorial Scholarship). When Basil decided to go to Flight School funds were very tight and it is only through the help of family that he was able to come to Arizona. The family would like to honor his memory and help other young men or women with the same dreams and hopes to realize their passion. Donations in Basil's memory can also be made to: Metropolitan Andrey Sheptytsky Institute Foundation and Holy Spirit Ukrainian Catholic Seminary.
Funeral arrangements include the following: Thursday, June 6, 2013, Panakhyda (Memorial service) at Hansen Desert Hills Mortuary, 6500 E. Bell Rd., Scottsdale, AZ, Friday, June 7, 2013 at 7:30 a.m. memorial service at Transpac Aviation Academy, 530 W Deer Valley Road, Phoenix. The casket will be transported to Ottawa, ON, Canada for further prayers. On Thursday, June 13, 2013 at 7:30 p.m. Panakhyda (brief memorial prayers) at McEvoy-Shields Funeral Home and Chapel, 1411 Hunt Club Rd. Ottawa, ON, continuing Friday, June 14, 2013 at 7:00 p.m. with Parastas (extended memorial prayers) at the same location. Saturday, June 15, 2013 at 10:00 a.m. Funeral Service at St. John the Baptist Ukrainian Catholic Shrine, 952 Green Valley Crescent, Ottawa Ontario K2C3K7. Burial will follow at Pinecrest Cemetery, 2500 Baseline Rd. in Ottawa.