Pray and Fast for Syria!
With the recent calls to prayer and fasting for Syria by Pope Francis and Patriarch Sviatoslav, the Holy Spirit Seminary community will make September 7 a day of fast and prayer to join with the universal church. We invite all our friends and benefactors to join with us!
Here is a news article from the Religious Information Services of Ukraine: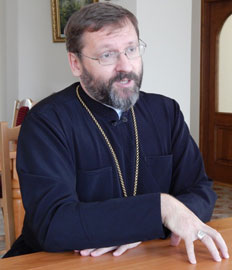 Patriarch Sviatoslav Shevchuk of the Ukrainian Greek Catholic Church (UGCC) urged believers to join the call of Pope Francis and spend the day on September 7 in prayer for peace in Syria.
"With all my heart I address you all – bishops, priests, consecrated persons, and the laity of the Ukrainian Greek Catholic Church in Ukraine and abroad – with a request to join the call of the pope and the nearest Saturday 'with one heart and one voice' with all the Universal Church to dedicate your prayers for peace in Syria, the Middle East, and around the world," the hierarch said in a statement.
During the web conference at RISU, the head of the UGCC also noted that the Christians of Syria and Greek Catholics in Ukraine have close ties.
"A good friend is Patriarch Gregory, whom last year at the dedication of the restored Cathedral of St. Sophia in Rome I promised our solidarity and prayers. We constantly observe the developments in Syria. With regret we can say that Christians are the first victims of this conflict. They suffer physical and mental violence, are victims of gruesome murders, kidnapping, blackmail," he said.
"Recently Patriarch Gregory called any interference in Syria an offense and the Holy Father Francis Pope urged Christians to pray for peace in Syria. We in Ukraine also join this call," said Patriarch Shevchuk.