Congratulations to One of Our Own!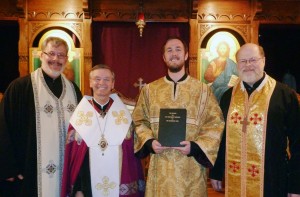 We just found out today that seminarian Cyril Kennedy has been awarded the Governor General's Silver Academic Award at Saint Paul University for 2013. We offer glory to God and congratulations to Cyril for this outstanding achievement!
Interestingly, this award was given in 2010 to Fr. Alexander Laschuk who was ordained a priest in 2012 for the Eparchy of Toronto and who currently serves as interim Director of the Sheptytsky Institute in Ottawa.
About the Governor General's Academic Award
For more than 125 years, the Governor General's Academic Medals have recognized the outstanding scholastic achievements of students in Canada. They are awarded to the student graduating with the highest average from a high school, as well as from approved college or university programs. Medals are presented on behalf of the Governor General by participating educational institutions, along with personalized certificates signed by the Governor General.